TAM-ChIP
one-step genomic targeting and library generation
Active Motif's TAM-ChIP* technology is a robust chromatin immunoprecipitation (ChIP) method that combines the power of Nextera** next-generation library preparation with ChIP for directed genomic targeting and library generation in one. TAM-ChIP utilizes the specificity of a ChIP-seq validated antibody to target protein binding sites of interest and a TAM-ChIP anti-species antibody conjugate in combination with a unique TsTn5 transposase to deliver barcoded adapter sequences directly into the chromatin surrounding the binding site. These adapter sequences are necessary for library amplification and sequencing using Illumina® platforms. By incorporating the library preparation into the ChIP reaction, you avoid sample loss commonly associated with the multiple end-repair and ligation steps of traditional library preparation methods.
TAM-ChIP for simultaneous genomic targeting and next-generation library preparation.
TAM-ChIP Highlights
Tagmentation of the DNA using the TsTn5 transposase aids in chromatin fragmentation and reduces variability due to sonication
Avoid sample loss common with traditional library preparation steps
Highly robust procedure has been validated to profile both histone and transcription factor DNA binding sites
Random barcodes enable distinction of PCR duplicates from biological replicates to increase the number of unique alignments 3-fold
Multiplex up to 16 samples on the same sequencing flow cell
To perform TAM-ChIP you will need a ChIP-validated antibody and the appropriate anti-species TAM-ChIP conjugate. Validated TAM-ChIP Assay Reagents are also available.
*

Patent pending


**

Nextera is a trademark of Epicentre, Madison, Wisconsin.
How does TAM-ChIP work?
TAM-ChIP is designed to perform antibody-directed genomic targeting and NGS library preparation at once. First, intact cells are fixed with formaldehyde which cross-links and preserves protein/DNA interactions. DNA is then sheared into small fragments using sonication and incubated with an antibody directed against the DNA-binding protein of interest. Then, a species-specific TAM-ChIP antibody conjugate containing Illumina-compatible sequencing adapters is added to bind the ChIP antibody. Activation of the unique TsTn5 transposase cuts the nearby DNA surrounding the genomic region of interest and pastes the antibody-associated adapters into the DNA sequence. The antibody-bound protein/DNA complexes are immunoprecipitated through the use of Protein G agarose beads and washed to remove non-specific DNA. Following immunoprecipitation, cross-links are reversed, the proteins are removed by Proteinase K, and the DNA is recovered and purified. ChIP enriched DNA is now ready for library amplification and sequencing.
By combining the next-generation library preparation within the ChIP reaction, TAM-ChIP minimizes sample loss. Traditional methods to prepare ChIP-Seq libraries involve a series of processing steps to end repair the DNA and ligate sequencing adapters. This multi-step process can often lead to significant loss of sample material. Another advantage of TAM-ChIP is the inclusion of random barcodes in the adapter sequences. This enables distinction of PCR duplicates from biological replicates during bioinformatic analysis to increase the number of unique alignments.
---
Robust and Reproducible Data
Active Motif's TAM-ChIP Assay Reagents were used to perform TAM-ChIP with 10 µg chromatin from MCF-7 cells. Antibodies to target insulator protein CTCF (4 µg) and Histone H3K4me3 (4 µg) were used in combination with 4 µg TAM-ChIP anti-rabbit conjugate. Libraries were PCR amplified and sequenced using the Illumina NextSeq 500. ChIP-Seq peaks were compared to ENCODE data sets available on the UCSC genome browser. Results show reproducibility between replicates and peaks that are consistent with published data sets.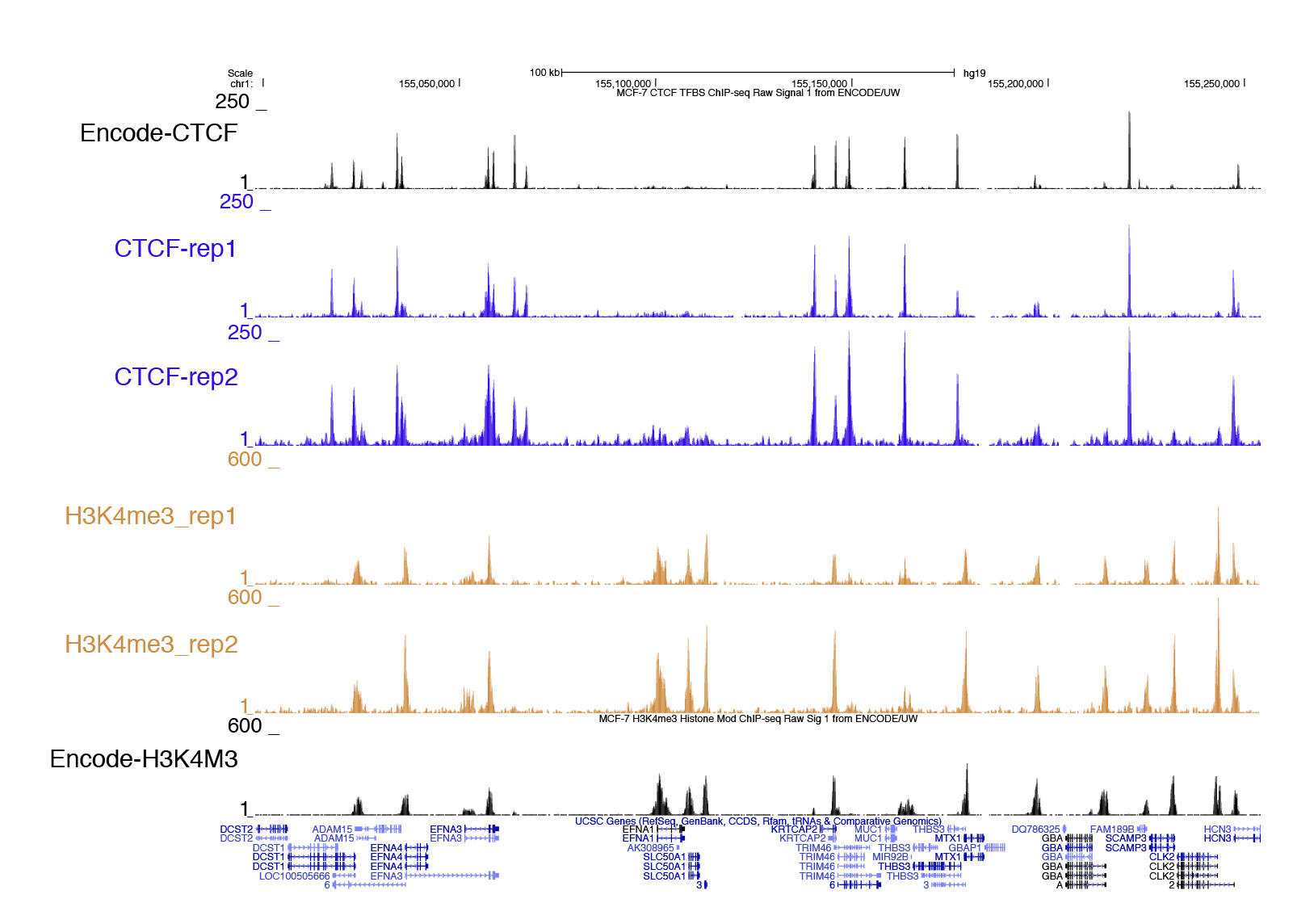 Figure 1: TAM-ChIP sequencing peaks for CTCF and histone H3K4me3 compared to ENCODE data sets.
---
TAM-ChIP validated antibodies
Other factors that will influence the success of TAM-ChIP include the abundance of target protein and the quality of the ChIP-Seq antibody. Below are some validated antibodies from Active Motif for use with TAM-ChIP.
Contents & Storage
Please note that the TAM-ChIP Assay Reagents are shipped on dry ice and contains reagents with multiple storage temperatures inside. All components can be stored at -20°C prior to first use, then we recommend storing each component at the temperatures indicated below. All reagents are guaranteed stable for 6 months from date of receipt when stored properly. Each kit includes the following components:
Reagents for TAM-ChIP anti-rabbit conjugate
TAM-ChIP anti-rabbit antibody conjugate; Store at 4°C
pMENTS AR; Store at -20°C
Oligonucleotide; Store at -20°C
TsTn5 transposase; Store at -20°C
5X Tagmentation Buffer; Store at -20°C
TAM Index 1; Store at -20°C
TAM Index 2; Store at -20°C
TAM Index 3; Store at -20°C
TAM Index 4; Store at -20°C
TAM Index 5; Store at -20°C
TAM Index 6; Store at -20°C
TAM Index 7; Store at -20°C
TAM Index 8; Store at -20°C
TAM Index 9; Store at -20°C
TAM Index 10; Store at -20°C
TAM Index 11; Store at -20°C
TAM Index 12; Store at -20°C
TAM Index 13; Store at -20°C
TAM Index 14; Store at -20°C
TAM Index 15; Store at -20°C
TAM Index 16; Store at -20°C
Amplification primer mix; Store at -20°C
Reagents for TAM-ChIP anti-mouse conjugate
TAM-ChIP anti-mouse antibody conjugate; Store at 4°C
pMENTS AM; Store at -20°C
Oligonucleotide; Store at -20°C
TsTn5 transposase; Store at -20°C
5X Tagmentation Buffer; Store at -20°C
TAM Index 1; Store at -20°C
TAM Index 2; Store at -20°C
TAM Index 3; Store at -20°C
TAM Index 4; Store at -20°C
TAM Index 5; Store at -20°C
TAM Index 6; Store at -20°C
TAM Index 7; Store at -20°C
TAM Index 8; Store at -20°C
TAM Index 9; Store at -20°C
TAM Index 10; Store at -20°C
TAM Index 11; Store at -20°C
TAM Index 12; Store at -20°C
TAM Index 13; Store at -20°C
TAM Index 14; Store at -20°C
TAM Index 15; Store at -20°C
TAM Index 16; Store at -20°C
Amplification primer mix; Store at -20°C
TAM ChIP Assay Reagents
RNase A (10 µg/µl); Store at -20°C
Proteinase K (10 µg/µl); Store at -20°C
Blocker; Store at -20°C
100 mM PMSF; Store at -20°C
Protease Inhibitor Cocktail (PIC); Store at -20°C
Precipitation Buffer; Store at -20°C
Carrier; Store at -20°C
10X PBS; Store at -20°C
1 M DTT; Store at -20°C
5X Q5 Reaction Buffer; Store at -20°C
Q5 High-Fidelity Polymerase; Store at -20°C
dNTPs (10 mM); Store at -20°C
Fixation Buffer; Store at 4°C
Protein G Agarose beads; Store at 4°C
TE, pH 8.0; Store at RT
Detergent; Store at RT
Stop Solution; Store at RT
Chromatin Prep Buffer; Store at RT
ChIP Buffer; Store at RT
ChIP Buffer without SDS; Store at RT
ChIP Filtration Columns; Store at RT
Wash Buffer AM1; Store at RT
Elution Buffer AM4; Store at RT
10X Elution Buffer AM2; Store at RT
5 M NaCl; Store at RT
DNA Purification Elution Buffer; Store at RT
Caps and plugs for columns; Store at RT